Tape Repair
Use our videotape and audiotape repair service to fix broken tapes and cassettes. Repair a broken and/or chewed VHS, Hi8, Digital8, DV, or MiniDV tape, then convert to DVD. Or fix and audiotape and convert to CD.
Videotape Repair Service
Do you have video cassettes that were chewed or even broken by your old tape player? No problem! Our videotape repair service fixes all types of damage to your tapes so they can be played again.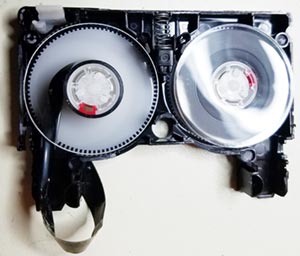 It is quite common for video players to damage the tape itself. And as cassette housings age, they become brittle and often crack or come apart. This places your precious memories at risk. Our experts will repair the damage. We expertly splice old tape together and/or fix cassette housings so that your videos can be played again. We accept all formats including VHS, Hi8, Digital8, DV, and MiniDV tape.
Once your tape is fixed, we recommend you have it digitized. We will return your original tape along with a digital copy of your video on DVD, USB (thumb drive), or as a downloadable file, the choice is yours. You will be able to play the digital copy of your video as much as you like without doing any damage.
Audiotape Repair Service
Whether it's personal recordings or favorite music, we can restore audiotapes too. Broken housing, broken tape, and chewed tape can all be fixed. Once restored, use our conversion service to have your audiotapes digitized and copied to CD or MP3 (downloadable files).
Our transfer service is so reasonable, you can have your whole tape collection converted, old mixtapes and favorites alike. On CD or as MP3 files, you will be able to play your audio in your car, on your computer, CD player, or phone.
Risk Free Videotape Repair Service
Our repair services are risk free. We will not charge you unless your video or audiotape can be successfully repaired. You can confidently send us your tapes knowing the originals will be repaired and returned along with the new discs if desired.
What our Videotape and Audiotape Repair Service can do for You
Basic Repair
Broken / chewed tape requiring splicing
Intermediate Repair
Includes Basic Repair
+ Replace broken / missing pieces of cassette
Advanced Repair
Includes Basic & Intermediate Repair
+ Removing mold / mildew from tape reels